The balanced scorecard – personal performance measurement for CEOs
In our recent blog we highlighted how a 'balanced scorecard approach' can be an invaluable tool for trustees looking to improve their impact reporting. This simple approach to performance management – borrowed from the business world but just as applicable to not-for-profits – isn't just a great tool for trustees. It's also an incredibly helpful way for the chief executive officers (CEOs) of charities and not-for-profits to measure and manage their own personal development.
So, if you're a CEO looking for an efficient, straightforward development tool, the balanced scorecard is a great option to consider.
The need for personal development as a CEO
Development is a key part of the annual review process for any senior management role. But when you're the CEO, and leading the management team, it's even more important to be able to demonstrate the direct impact you've had on the charity's delivery of social care.
This impact assessment splits into two key questions:
How has your tenure as CEO affected the overall impact of the charity or not-for-profit as a whole? Have you led and managed the organisation well and delivered on the key strategic goals defined at the start of the year?
How have you, personally, developed over this 12-month period? What new skills have you attained, what hurdles have you overcome and where can you demonstrate the attainment of your own personal goals and objectives?
If you can show there's been a clear progression in these key areas of your leadership and performance over the course of the year then that will lead to a more positive annual appraisal and (potentially) a beneficial outcome from your pay review.
How the balanced scorecard approach helps
How do you gather the information and data needed to demonstrate your development over time? The balanced scorecard approach is one way to do this.
The scorecard will generally be short, one-pager document that gives you an overview of your charity's strategic objectives, alongside your own personal goals and objectives as CEO.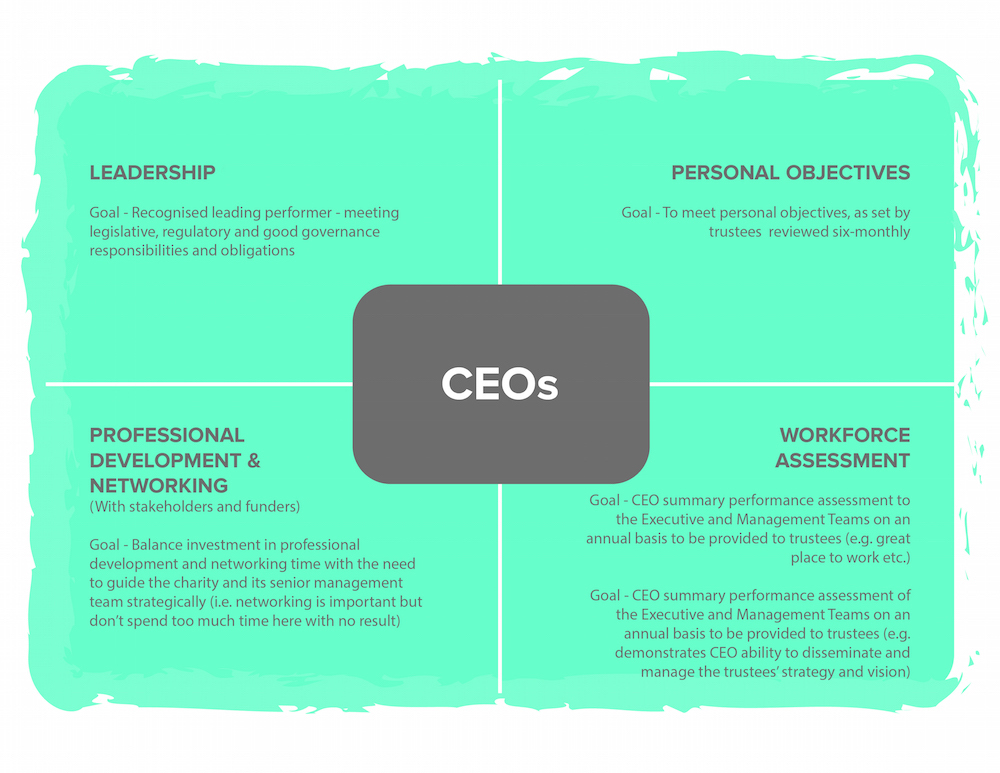 The example we've used shows four key (critical success) areas – in this case, they're leadership, personal objectives, professional development and networking and workforce assessment.
These are the important areas that have been highlighted for this particular CEO's development. The critical areas will vary from CEO to CEO, but the focus will usually be on measurable areas of performance that can be reviewed over the year.
The four critical themes are then split down into separate key performance indicators (KPIs). These are the metrics used to measure the CEO's progress against their defined personal goals and objectives. And by reviewing these each month, you build up an overview of performance that tells the real story behind your leadership of the organisation over the year.
What you get is a strategically focused performance measurement tool, all based around one very simple scorecard.
A brilliant way to communicate your performance
As an adviser to the charity sector, I talk to a lot of not-for-profit CEOs. And I know from experience that CEOs will always aim to minimise any 'micro-management' from the organisation's trustees that may get in the way of the CEO effectively managing the organisational aspects of the charity.
So, firstly, I should stress that the balanced scorecard isn't intended as a way to keep tabs on you as a CEO. It's not a stick to beat you with, and it's most definitely not a way for trustees to micro-manage what you do.
What the scorecard provides is a simple, effective way for you – the CEO – to communicate your development over time. All without any prompting from trustees. It makes the whole performance process completely transparent and gives you a tool that makes it easy to show where you're adding value.
Talk to us about setting up a balanced scorecard
As advisers to the Third Sector, we specialise in helping charities and not-for-profits to get more from their funding, their processes and their overall strategy.
So we know the kinds of questions you'll be asked as a CEO, and the expectations that your trustees will have of your performance and development while leading the management team.
If the balanced scorecard approach sounds like an attractive way for you to record, measure and communicate your CEO development, why not come and have a chat with us and we can help you define your critical areas and KPIs.
Get in touch to arrange a chat and a coffee with one of the team.