Charity Compliance Update – November 2018
Welcome to your November charity compliance update. With another hugely successful Trustees' Week behind us, we round up the flurry of announcements which have been made since our last installment. Read on for Budget highlights, a Digital Code update, a whole myriad of update guidance and a summing up of consultation news.
Budget 2018-19 – a sector perspective
From the perspective of the Charity Sector, the Budget this year was relatively uneventful, with Sector-specific highlights being around taxation – including:
Small trading exemption limits to increase
Gift Aid Small Donations Scheme individual donation limit to increase from £20 to £30
Retail Gift Aid scheme – relaxation of donor letter requirements
Many had hoped that we would see more substantial financial pledges of support for the wider Sector, myself included.
The Charity Tax Group (CTG) had this to say about some of the funding awarded; "CTG welcomes these funding awards, particularly where they are given in lieu of VAT costs, as they recognise the obstacles that irrecoverable VAT present to charities. However, the Government needs to go much further in committing to a wider strategic review of how the VAT system affects charities."
Charity Digital Code of Practice launches
The Charity Digital Code of Practice launched on 15 November 2018 as Trustees' Week 2018 drew to a close.
The published code was funded by Lloyds Banking Group and the Co-op Foundation and uses the Co-ops definition of digital; "Applying the culture, practices, processes & technologies of the Internet era to respond to people's raised expectations".
The Code sets out seven best practice principles (i.e. it is not a regulatory document) for charities registered in England, Wales and Scotland. The infographic shown here provides a simple overview of the key themes.

The code incorporates two versions of guidance for charities – one for those organisations with income in excess of £1m per annum and those below this threshold. Useful resources are available for each principle to support charities looking to align themselves with the Code.
The steering group are keen to emphasise that charities are expected to adopt the Code in conjunction with the following:
To read the Code yourself follow this link.
HMRC – Gift Aid schedule completion guidance
On 15 November HMRC updated their Claim Gift Aid Online guidance, in addition to publishing a new step-by-step guide entitled How to complete your Gift Aid donations schedule to support charities in submitting Gift Aid claims successfully online. See the updated guidance page here.
Changes to Scottish charity reporting requirements (SORP update)
Last month we reported that Update Bulletin 2 had ben issued by way of an update to the Charities SORP (FRS102). On 12 November, the Scottish government set in motion their own updates to the Charities Accounts (Scotland) Regulations 2006.
The changes will affect:
larger charities (those with income of £250,000 and more)
all charitable companies
charities that use the Housing and Higher & Further Education SORPs.
The clarifying amendments in section 3 of Update Bulletin 2 came in to force for accounting periods starting on or after 5 October 2018.
Further changes to follow, once the full Regulations become law on 1 January 2019.
Changes to charity details online – CCEW
Trustee legal names
In July's edition of this column, we communicated that the CCEW had changed the way in which charities would update their details on the Commission's online register.
The CCEW updated this on 12 November 2018 to reflect that a trustee's full legal name will now need to be shown on the register, instead of a 'public display' name as they may have done previously.
The CCEW said; "If current trustees have used the display name feature, this will be removed on the 1 April 2019 and their legal name will show to the public. If this would cause personal danger to a person they can apply for a dispensation and we will assess their case."
Change of accounting period
The CCEW published guidance on 12 November 2018 regarding how to change a charity's accounting reference date (or accounting year end as it it's more commonly known).
The guidance differentiates between the rules for incorporate and unincorporated charities in this regard.
OSCR publishes guidance for charities with investments 
On 12 November 2018 the Office of the Scottish Charity Regulator (OSCR) published their new guidance document – Charity Investments: Guidance and Good Practice.
The full guidance runs to a fairly succinct 28 pages long and is written in a clear, non-technical way with helpful reminders for trustees on a range of investment-related issues – for example, where to look to review what investment powers a charity's trustees have.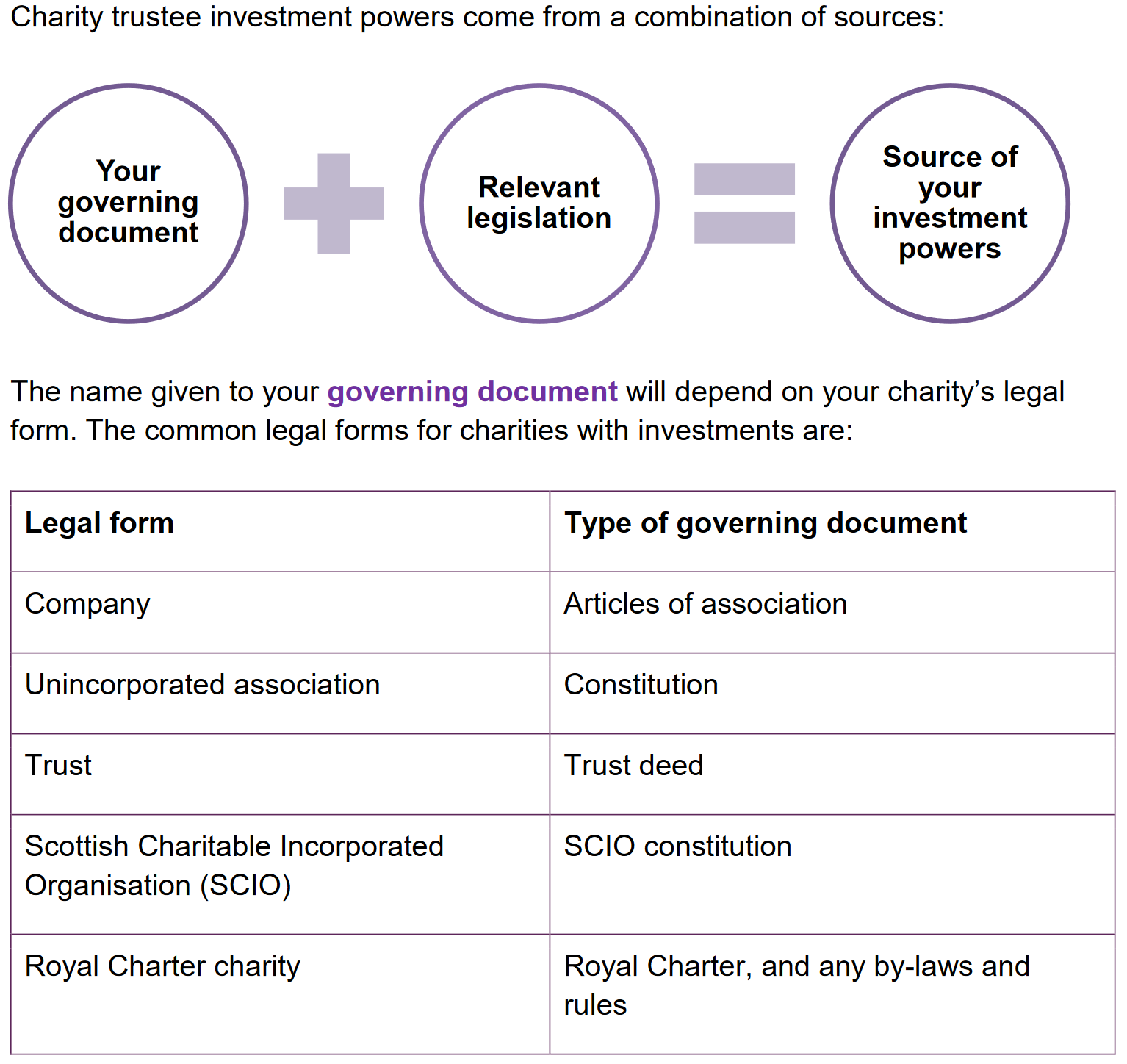 Of course, the CCEW already has CC14 in place – Charities and investment matters: A guide for trustees – however this has not been updated since August 2016, in spite of the CCEW suggesting that a review would be carried out in 2017. 
Consultations open or pending a response
Here's our monthly round-up of (and links to) key consultation opportunities and those closed, pending feedback. It's been a quiet month with no new consultations from the Regulators.
There is currently only one UK charity Regulator consultation open and inviting a response, as follows:
Charity Commission for Northern Ireland (CCNI)
Draft Strategic plan 2019-22 – opened 19 September 2018 and runs until 12 November 2018. Comments received will support the Commission in finalising a plan that will direct organisational priorities over the next three years.
Proposed action for charities that have failed basic compliance checks – opened 26 September 2018 and runs until 21 November 2018.
Get involved with either of the above by:
Completing an online survey:
Complete the questions in the consultation documents and email your response to consult@charitycommissionni.org.uk or post it to Charity Commission for Northern Ireland, 257 Lough Road, Lurgan, Northern Ireland, BT66 6NQ
The following consultations are closed with feedback analysis pending – watch this space for an update in future briefings:
Charity Commission for England and Wales (CCEW):
The use and promotion of complementary and alternative medicine (CAM): making decisions about charitable status – closed on 19 May 2017. This consultation is about the Commission's approach to deciding whether an organisation which uses or promotes CAM therapies is a charity.
Charity Commission for Northern Ireland (CCNI)
Annual monitoring return 2018 – closed on 21 November 2017. Changes to apply to charities' financial years starting on or after 1 January 2018. A full consultation report was due in Spring 2018 but has not yet been published.