Gift Aid (part 1): The Practicalities
In this, the first of a two-part article, I explore the administrative and practical side of registering and being registered for Gift Aid, including:
Establishing registration with HMRC
Gift Aid declarations for your donors and record-keeping
Completing a Gift Aid return
In the second instalment next month, I will be reviewing key Gift Aid technicalities, such as:
Eligible donations
Calculating what is due from HMRC
Pitfalls – things to look out for
What happens if you overclaim?
What is Gift Aid?
Gift Aid is a scheme enabling registered charities to reclaim tax on a donation made by a UK taxpayer, effectively increasing the amount of the donation. Using Gift Aid means that the taxman will add 25p to every pound a donor gives.
As a charity advisor, and at a time when unrestricted income is in short supply, I am still surprised by the number of organisations who are not registered for Gift Aid with HMRC. 
Are you registered with HMRC as a charity?
Our starting point is to establish whether your charity is registered with HMRC.
Charities who are registered will typically have a HMRC reference number consisting of two letters and five digits (seven characters in total in length). If you are unsure whether your charity is registered or not, you can always call the HMRC charities helpline on 0300 123 1073 and they will be able to tell you.
If you are not registered with HMRC (and wish to be) you can register online by completing the following two steps:
Register your charity for an online HMRC Gateway account
You can register for an online HMRC Gateway account by completing the information requests within) this link. This process will generate a User ID and allow you to set a password for your HMRC Online Gateway account.
Request charitable registration with HMRC (which is needed in addition to your registration with the regulator (e.g. Charity Commission for England and Wales)
You will need the following information to hand, enabling you to complete a further online form:
bank account details and financial accounts
officials' details, including dates of birth and National Insurance numbers (typically two trustees as authorised individuals and one other – being the main point of contact, e.g. Finance Manager or CEO)
registration number if you've registered your charity with a regulator
details of your charity's charitable objectives
a signed copy of your charity's governing document
It is important to note that the above process replaces a previous system where charities could complete and submit a paper form, known as a ChA1, to HMRC.
Registering for Charities Online
Unfortunately, having activated an online Gateway account and having received a charity HMRC registration number, does not mean that your organisation is now ready to begin submitting Gift Aid repayment claims to HMRC. Your charity will need to register for the Charities Online service via the HMRC Gateway – an online filing portal for charities – as follows:
Login to your Gateway account;
Select 'get another tax, duty or scheme'; and
Follow the below steps: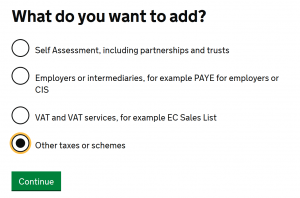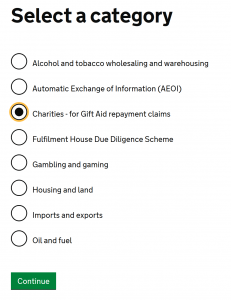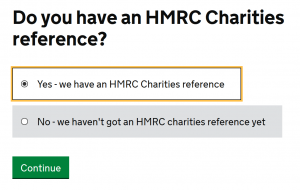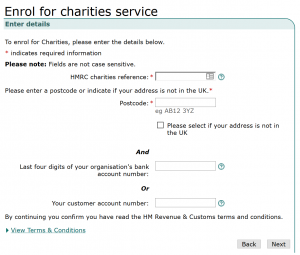 HMRC will send activation information via the post. Once you have activated your Charities Online access, you will be ready to submit your first Gift Aid claim form.
Gift Aid declaration forms
To claim Gift Aid in relation to a donation from an individual (see next month's instalment for establishing donation eligibility and other such considerations), your organisation must have a signed Gift Aid declaration form in place in relation to that donor.
HMRC have some example forms available to download from their website – to suit varying needs – which can be tailored for your own charity. They are a great starting point if you are unsure as to the wording which may/ must be used. The forms can be found in the links below:
Record-keeping
So, you're all registered, and your donors' Gift Aid forms are pouring in. How does your charity keep track of what donations have been received and, of those, which ones have been Gift Aided and which have not?
Fundraising database – Some larger organisations may have a formal fundraising database in place (for example Raiser's Edge) which can track donor eligibility for Gift Aid through a donor's individual contact card.
Spreadsheet – For smaller charities, the Gift Aid record-keeping may comprise a trusty spreadsheet.
Finance package coding structure – Other organisations may use the nominal coding structure in their finance package to track which donations are relevant or not. A suggested chart of accounts structure (which will assist with this approach) is available to download from one of my previous articles here.
I am a firm believer in data only being processed once and therefore, whatever your form of donation record-keeping, it needs to be efficient, real-time and accessible and updated at the point of donation receipt.
Completing your Gift Aid return form
Compilation of information for, and submission of a Gift Aid repayment claim to HMRC will differ depending upon which record-keeping system a charity uses.
If your charity has a fundraising database in place (if it is charity sector specific of course), it may be that repayment claims can be submitted automatically to HMRC from the software.
However, for most other charities, the return completion and submission process are likely to be a more manual affair.
Luckily, HMRC have template schedules available to us to allow a fairly simple completion and upload process.
The schedules have very clear instructions at the top of the download documents as to how to enter the information to ensure that HMRC will accept it upon filing.
If you are using a spreadsheet directly to track Gift Aided donations – or even exporting information from an accounts package to a spreadsheet for return submission purposes – you want the data to have been entered/ processed in such a way that all the information above is readily accessible to you.
My recommendation of course is that any spreadsheet trackers simply use the HMRC template structure above – allowing a straight copy and paste in to the return.
Once you have completed your schedule, this is simply uploaded via the Gateway. HMRC check your file instantly for any obvious errors and flag these to you right away. Your file will not be accepted until these errors have been rectified.
A common issue is postcodes being incorrect. This is most likely down to either a simple data input error at the time of processing or that the donor's handwriting on their declaration is slightly tricky to decipher. I usually find that a quick google of the street name will easily return the relevant postcode, enabling you to amend and complete your return.
How long until a repayment is received?
Once a repayment claim has been submitted, HMRC say that this will take up to ten weeks to be processed. The funds will then be paid automatically in to the charity's bank account (for which you provided details upon registration – above).
Occasionally you receive the funds prior to the ten-week mark however, if you have not received funds by ten weeks, I would urge you to call the HMRC Charities Helpline on 0300 123 1073 and follow up with them. You will need your HMRC charities reference and your submission reference number. HMRC will only speak with an individual who was named as an authorised individual at the point of registration.
You will note when you call that an automated message helpfully says something along the lines of "if ten weeks have not passed since your claim was submitted then please call back after ten weeks has passed".
If there has been a problem with a submission, which is delaying payment, HMRC will usually write to a charity explaining what the issue is and whether any further information is required to enable them to process a claim.
Join me next month for a review of the technical side of Gift Aid. In the meantime, should you have any queries, please don't hesitate to drop me a note and I'll be pleased to assist in any way that I can.
As previously published in Accounting Web